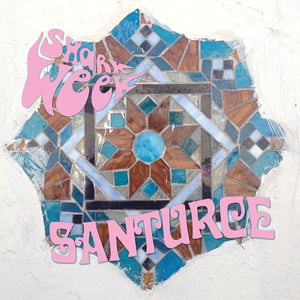 $

7.00
After electrifying Washington, D.C. with its scorching live show for more than a year, Shark Week released its debut EP to critical acclaim in the summer of 2012, including being named The Deli Magazine's best emerging D.C. artist of the year and earning slots at SXSW and 2013's Sweetlife Festival.
This summer, the band follows its inaugural release with a AA-side 7" recorded during a sun-bleached January weekend in San Juan, Puerto Rico. The Santurce 7", named after a neighborhood in San Juan, distills the raw energy of the four-piece band's celebrated live show into a devastating package of blues and soul informed garage rock (not to mention a few Spaghetti Western guitar licks).
The release is due out July 30th. All pre-orders will receive immediate access to a free download of the record.
A. Baby Maybe
A. Go West
Press
"Their sound is rooted deep in vintage blues and soul; frontman Ryan Mitchell has the kind of seen-it-all delivery that artists twice his age would kill for." – NME
"The galloping ['Go West'] confidently strides over gruff percussion, fatalist lyrics, and taut guitar licks that wouldn't be out of place in a Sergio Leone pastiche piece." - Spin
"…bluesy, boozy garage-rock…Shark Week has earned its buzz the old-fashioned way: through live shows—and wild stage antics." – Washington City Paper